Gymnasium floors are a huge investment for any school, church, or organization, you must protect them to ensure that you get the most out of your investment. Preserve the appearance of your gym floor covering with our durable, attractive, and acoustically friendly gym floor covers. When you utilize your gym as a multi-purpose room, GymPro® floor covers protect them from damage. Prevent scratches from stages, tables, and chairs, and scuffs from shoes, along with general wear and tear. GymPro® gym Gymnasium floors cover to extend your floor's value, keeping it looking new longer. GymPro Eco-Roll and Eco-Tile are both made from recycled plastic bottles making both a GREAT ECO-nomical AND ECO-logical choice!
We offer 3 different types of GymPro Gym Floor Covering & Protection:
GymPro Eco-Roll: No other system on the market provides a combination of durability, upscale appearance, portability, and efficiency. The attractive, 100% recycled top layer looks and performs like carpet improving your facilities acoustics, while the non-skid backing prevents moisture penetration, keeping the floor underneath clean and dry. Our compact, custom designed, Lay-Up racking system, allows Eco Roll to deploy quickly and easily reducing labor costs and takes up very little room when stored. Don't settle for heavy and unattractive vinyl covers. With GymPro Eco-Roll, you can't afford to not protect your wood floors!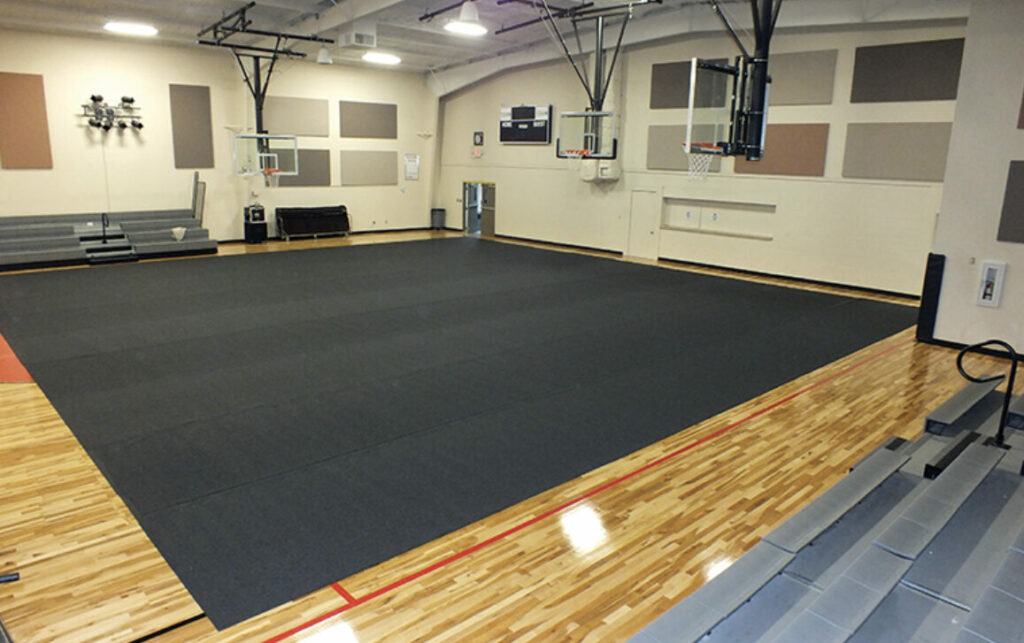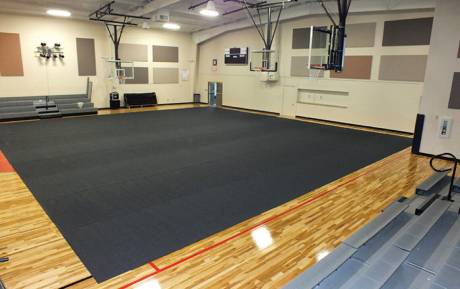 GymPro Eco Tile is the only carpet tile gym floor covering system that is made from 100% recycled water bottles! It is also the only the only gym floor cover that has a class 1 fire rating! It is attractive, has the acoustic qualities of carpet, each tile is lighter than any other carpet tile gym floor cover on the market! 
GymPro Eco-Tile Features:
Extremely Light Weight, Durable, & Tear Resistant
Fast and Easy Installation
Appearance and Acoustical Properties of Carpet
Highly Slip and Stain Resistant
Easy to Clean
Compact and Easy to Store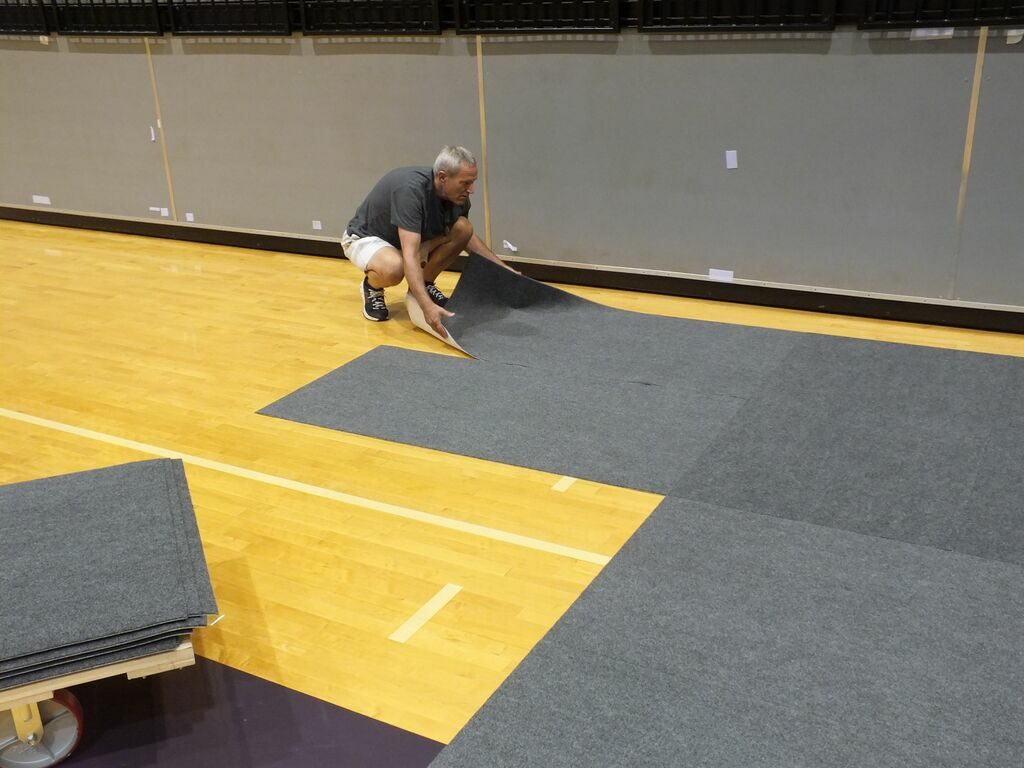 GymPro Courtside Runner: Protect your Basketball Players from injury and your Gym Floors from damage. Revolutionary GymPro Courtside Gym Floor Cover Runners are uncompromising protection for both your Players and your Gym Floor, with the added advantage of featuring your school logo front and center in durable and brilliant flocked colors. Unlike the vinyl gym floor covers and runners of the past, our GymPro Courtside Gym Runners are a moisture-wicking and slip-resistant barrier that protects your gym floor from players' chair and high traffic damage. Virtually stain proof, the top cloth absorbs sweat, limits dust and provides better safety and traction for your players' shoes.
Key Features:
Extremely Durable and Stain Resistant
Highly Slip Resistant
East to Clean
Used to Protect Virtually any Floor Surface